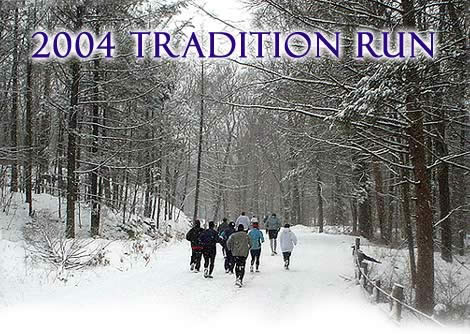 So What's a Little Snow?
January 18, 2004 - A mere 4 inches of snow fell overnight. It wouldn't be the the Tradition Run without snow and this certainly wasn't enough to stop over 150 runners from tackling this uphill run for the 35th year. This is the Bernie Jurale Memorial run as Bernie began the tradition in 1970 by running to the top of West Peak in Meriden, Connecticut, on his 70th birthday.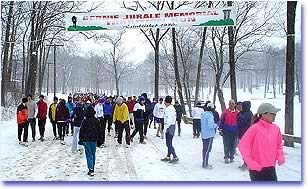 The starting line in Hubbard Park was well-cushioned with snow, looking arctic, as usual. Believe me, these runners haven't seen anything yet.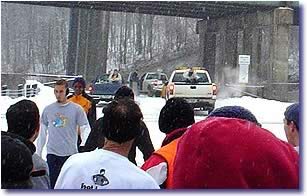 The officials and photographers man the four wheel drive trucks to lead the way to the top of the mountain. The snow continues to fall...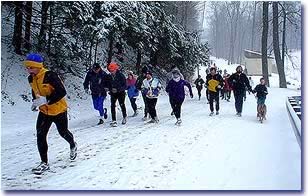 They are off...and it is up! You don't have to wait long to test those quads at the Tradition Run. The first hill is short and sweet, just a prelude to the drama that awaits. Welcome to New England, sled dogs appear to provide an advantage...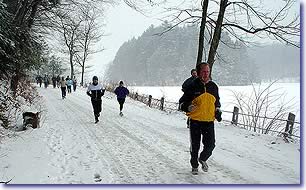 The course is predominately flat for the first mile and the view of the reservoir is stark white pristine snow.
Mile 2 two begins with a small hill. What's your traction strategy? Do you run in the footsteps of the other runners hoping to find decent footing? Or do you run on virgin snow, expecting solid traction? Either way you have to bear down...
After the hill you cross the dam and head for the major, interminable upgrade. Does the snow look like its getting deeper to you?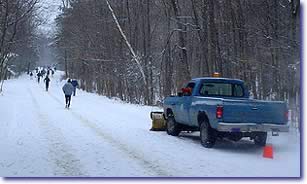 The end of mile two and you are in the middle of the grind. This hill just keeps climbing, you need a truck just to provide the split times...
The finish line at Castle Craig, a classic winter scene.
Join us on January 23, 2005 for the 36th running!