Profiles

Billy Mills

Billy Mills was born on June 30, 1938 in Pine Ridge, South Dakota. He is an Oglala Lakota (Sioux) Indian and he was raised on the Pine Ridge Indian Reservation. Billy's given Lakota name is Makata Taka Hela which means "love your country" or more traditionally translated, "respects the earth".
Billy grew up in poverty and was orphaned at the age of 12. He turned to sports as a positive focus in his life and took up running while attending the Haskell Institute, an Indian boarding school in Lawrence, Kansas. Billy discovered that he had a talent for distance running and he
broke a number of high school track records. In the late 1950s he attended the University of Kansas on an athletic scholarship.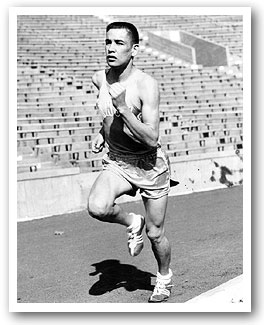 At the University of Kansas Billy continued to improve as a distance runner. He was named a NCAA All-America cross country runner three times and in 1960 he won the individual title in the Big Eight cross country championship. The University of Kansas track team, coached by Bill Easton, won the 1959 and 1960 outdoor national championships. Billy graduated with a B.S. in physical education.
After graduation Billy was commissioned as a lieutenant in the United States Marine Corps. He focused on military life and did not train for a brief period, but soon he returned to running and posted times good enough to qualify for the 1964 Olympics. After training for 18 months Billy made the U.S. Olympic Track and Field Team in the 10,000 meters and the marathon.
The 1964 Tokyo Olympic Games
No American had ever won the 10,000 meter race in an Olympics. Billy Mills' qualifying time was almost a full minute slower than the favorite's, Ron Clarke of Australia. The pre-race media coverage focused on Clarke and his expected duel with Mohammad Gammoudi of Tunisia. Billy went largely un-noticed. The field for 10,000 meter the final included many Olympic gold medalists and world record holders.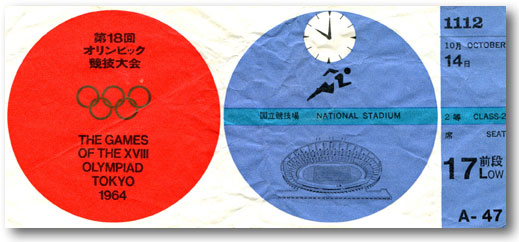 A ticket from the day of the 10,000m final
From our favorite book on running history, Fast Tracks - The History of Distance Running by Raymond Krise and Bill Squires, comes this description of the 1964 Olympic 10,000 Meter Final:
I knew he was gonna win when I saw him. I could just feel it, like a thunderstorm coming in August. Even on the other side of the world, I could tell. He's a United States Marine.

It's our new color set, and everybody looks kind of orange, but I can tell they're moving fast. The guy announcing from Tokyo says 10,000 meters is a little over 6 miles! I can't run two blocks in gym class. I ask Dad and and Grandpa how anybody can run for 6 miles, let alone so fast, and they don't know either. Dad's a football fan, and Grandpa's a baseball nut, and they only know about sprinting.

The TV guy keeps saying it's very surprising to see Billy Mills doing so well, right up there lap after lap with the Australian guy who has a crewcut as short as Billy's and as much muscle in his shoulders, too. There's a little tiny guy from Tunisia right behind these two big guys, but everybody else that everybody thought would do great before the race is pretty much out of it. The guy who won it last time is 'way back, and so is the guy who won the 3 miler the same year. That guy Lindgren, who's only three years older than I am and who beat the Commies in this same sort of race this summer's got a sprained ankle and he's out of it too.

The Australian guy's name is Clarke; the announcer just said it, and I'll remember it 'cause he looks like Clark Kent half-changed in Superman. He looks like he eats barbed wire for lunch. He keeps trying to run away from our guy, but Billy always catches up with him. Even I know why, from junior varsity wrestling: Billy's got nothing to lose. Clarke has everything to lose.

It's the last lap and Dad's put down his Scotch and Grandpa's beer's getting warm and these guys are running faster than before. Billy and Clarke are shoulder-to-shoulder just ahead of the little Tunisian guy whose name's Mohammed Something and now I'll remember it because that's the name of his god or something. It just got like football, and Dad's shouting! Mohammed just put his arms between Billy and Clarke and shoved 'em both aside! They both almost fell. Geez, they oughta slug that little bastard! They're both really mad, and Clarke's right on Mohammed's heels but Billy's about 3 yards back and there's only a turn and a straightaway to go.

HE'S GONNA DO IT! I KNEW IT! Lookit him go... Dad's screamin' like it was Jimmy Brown about to score for Syracuse. HE GOT HIM! There's the little thread, he's gonna do it, he's got his hands up in the air and a big smile on his puss and he's got leg muscles the size our Buick and the announcer says it's a new Olympic record and no American's ever done anything like this before.

They're interviewing him now and his father was a Sioux Indian and he is a Marine lieutenant and he has an Olympic gold medal for running 6 miles.

You can't get any more American than that.
Billy set the Olympic 10K record at 28:24.4, almost 50 seconds faster than his previous best time. Mills also competed in the 1964 Olympic marathon and placed 14th.
To date, no other American has won a gold medal in the 10,000 meters.
Post Olympic Career
In 1965 he set U.S. records for the 10,000 meters and the three mile, and he set a world record in the six mile run at the AAU championships.
Mills finished his career in the U.S. Marine Corps as an officer assigned to the Department of the Interior. He later became a successful life insurance salesman, then switched careers to become a professional speaker.

Billy has served on the President's Council on Physical Fitness and Sports and was named one of the Ten Outstanding Young Americans by the Jaycees in 1972. He was selected as a 1990 Healthy American Fitness Leader and was a recipient of the 1993 Distinguished Service Citation, the highest award given by the University of Kansas and it's Alumni Association.
He was inducted into the United States Olympic Hall of Fame in 1984, and is a member of the United States Track and Field Hall of Fame, the National Distance Running Hall of Fame, the Kansas Hall of Fame, the San Diego Hall of Fame, and the National High School Hall of Fame.
His life story was made into the film, Running Brave, starring Robby Benson and produced by Englander Productions in 1983.
Current Activities
Billy Mills remains active in Native American causes today. He uses his speaking skills as an advocate for and a role model to young Native Americans. He is the national spokesman for Running Strong for American Indian Youth®, a non-profit organization that help communities with self-sufficiency programs, youth activities and cultural identity projects. As the national spokesman for Christian Relief Services, he has helped raise more than $212 million in contributions.

In 1991, Billy wrote Wokini: A Lakota Journey to Happiness and Understanding with Nicholas Sparks, now in it's fourth printing. He and his wife Patricia live in Sacramento, California, where Mills owns and operates Billy Mills Speakers Bureau.